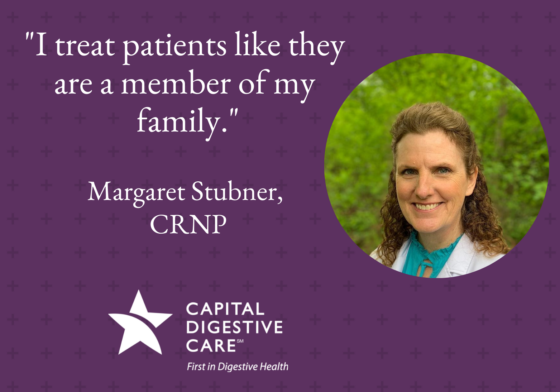 Capital Digestive Care is pleased to welcome Margaret Stubner, CRNP to the practice. Mrs. Stubner earned her Bachelor of Science in Nursing from the University of Pennsylvania and was commissioned into the United States Army Nurse Corps. Mrs. Stubner then went on to complete the Family Nurse Practitioner Program at Georgetown University in Washington, DC.
Prior to joining Capital Digestive Care, Mrs. Stubner worked at two Montgomery County area health clinics where she provided medical care, consultation, and care coordination for patients with a wide range of clinical issues. Mrs. Stubner also served on Active Duty as a nurse at Walter Reed Army Medical Center, Landstuhl Regional Medical Center and Brooke Army Medical Center. During her tenure at Brooke Army Medical Center she was an instructor in the Critical Care Nursing Course. After leaving Active Duty, she was an instructor in the License Practical Nursing Course as a Reserve Corps officer.
Mrs. Stubner's approach to patient care is collaborative. She likes to partner with patients on both preventive care and disease management to help them achieve maximum wellness. She treats patients like they're a member of her family and is passionate about helping patients understand their treatment plans. Mrs. Stubner will be seeing patients at our Rockville location. Read more about Mrs. Stubner or make an appointment.