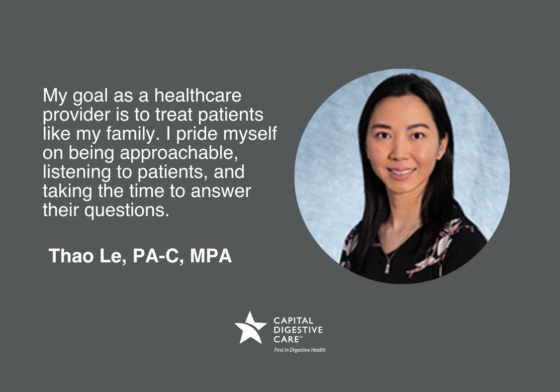 Capital Digestive Care is pleased to announce the addition of Thao Le, PA-C, MPA, to our Rockville, MD office. As a board-certified physician assistant, Thao has a special interest in the following areas:  
Colon cancer prevention

Gastroesophageal reflux disease

Hemorrhoid treatment
Philosophy of Care:  
"My goal as a healthcare provider is to treat patients like my family. I pride myself on being approachable, listening to patients, and taking the time to answer their questions. Losing my stepfather to colon cancer propelled me to get involved in screening and preventive care and I encourage all my patients to keep up with their wellness checkups." 
Prior to joining Capital Digestive Care, Thao held positions in urgent care and family medicine. 
In her spare time, she enjoys spending time with her family, including sampling new cuisine every weekend with her husband and mother.