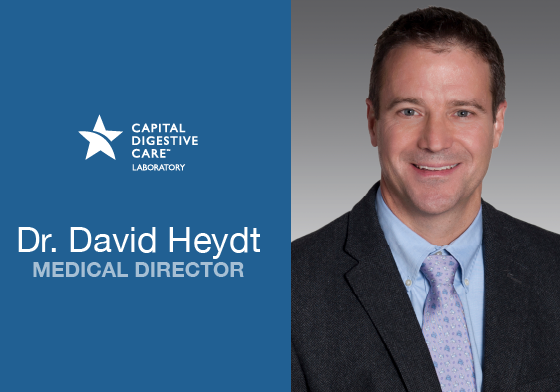 Capital Digestive Care is thrilled to announce that Dr. David Heydt has been named medical director of Capital Digestive Care Laboratory effective March 1, 2023. In his new role, Dr. Heydt will provide clinical oversight of the laboratory as well as clinician and staff education while assisting with innovative laboratory projects and partnerships.
Dr. Heydt had previously served as the laboratory's acting anatomic pathology director for the last three years. Currently, he is actively involved with efforts in utilization of digital pathology and diagnostic algorithms, ensuring that Capital Digestive Care's mission of innovation remains a top priority.
Dr. Heydt is certified by the American Board of Pathology in Anatomic Pathology. Dr. Heydt attended medical school at Jefferson Medical College-Thomas Jefferson University Hospital. He completed his residency at New York Medical College and a fellowship in surgical pathology at Memorial Sloan Kettering Cancer Center. Prior to joining Capital Digestive Care, he was a staff pathologist at Miraca Life Sciences in Union, New Jersey. Dr. Heydt is a member of the American Medical Association, the American Society for Clinical Pathology, and the College of American Pathologists.
We are delighted to elevate Dr. Heydt to this new expanded role, where his clinical pathology expertise will surely allow us to continue to deliver the highest quality care to our patients here at Capital Digestive Care.