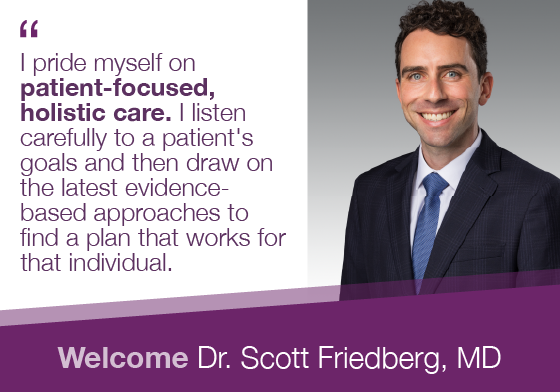 Capital Digestive Care is pleased to announce the addition of Dr. Scott Friedberg to our Rockville, MD practice.
Board certified in internal medicine, Dr. Friedberg is a fellowship-trained gastroenterologist and inflammatory bowel disease specialist with particular interest in the following:
General GI care
Inflammatory bowel disease (IBD)
Crohn's disease
Ulcerative colitis
Dr. Friedberg has a subspecialization in IBD and trained at the University of Chicago's world-renowned IBD Center where he routinely treated some of the most challenging cases in the country using novel and creative approaches. There and through additional experiences in Japan, he has also developed expertise in performing intestinal ultrasound (IUS), an emerging modality to monitor IBD noninvasively, in the office, and without any bowel preparation or radiation.
He has written IBD-related book chapters, taught medical school classes, and led studies on novel medications, including a pioneering study on upadacitinib, the first FDA-approved oral treatment for severe Crohn's disease. His research has been presented at numerous national and international conferences, as well as featured in top news outlets.
Philosophy of care
"I pride myself on patient-focused, holistic care. I listen carefully to a patient's goals and then draw on the latest evidence-based approaches to find a plan that works for that individual. I consider not only the most cutting-edge pharmacologic therapies but also dietary and other nonpharmacologic approaches."
Learn more about Dr. Scott Friedberg or schedule an appointment with him.