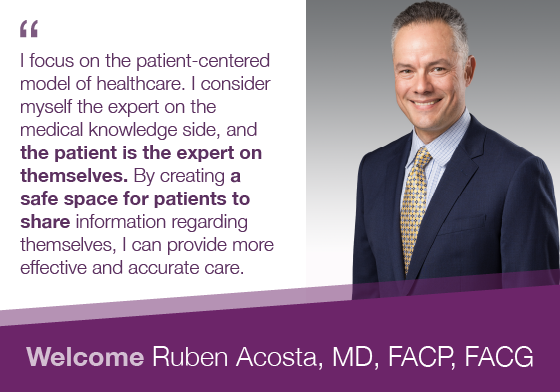 Capital Digestive Care is pleased to announce the addition of Dr. Ruben Acosta to our Silver Spring and Olney offices.
Board certified in internal medicine and gastroenterology, Dr. Acosta is a fellowship-trained gastroenterologist with advanced training in endoscopy and particular interest in the following conditions:
Pancreatic disorders
Pancreatic cysts
Philosophy of Care
"I focus on the patient-centered model of healthcare. I consider myself the expert on the medical knowledge side, and the patient is the expert on themselves. By creating a safe space for patients to share information regarding themselves, I can provide more effective and accurate care."
Learn more about Dr. Ruben Acosta or schedule an appointment with him.