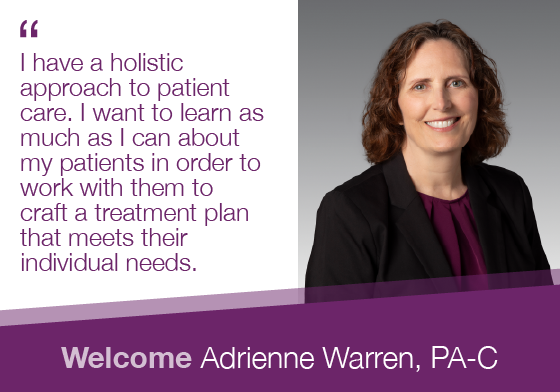 Capital Digestive Care is pleased to announce the addition of Adrienne Warren, PA, to our Chesapeake, VA office. Adrienne is a physician assistant (PA) for whom caring comes naturally. The daughter of a police officer and a nurse, she is driven to serve others by working with her patients to maximize their digestive health.
Adrienne is passionate about the role of nutrition in individual health. She enjoys working with patients as they begin the journey toward understanding how their daily dietary choices can help them to better manage their GI conditions ranging from GERD to liver disease and IBS.
Philosophy of care:
"I have a holistic approach to patient care because people have complex needs and the body's systems are all interconnected. I want to learn as much as I can about my patients in order to work with them to craft a treatment plan that meets their individual needs. I believe that patient education is fundamental to helping patients understand their disease process and the various treatment options that are available to help them maintain optimal health."
Please find out more about Adrienne Warren, PA or schedule an appointment with her.