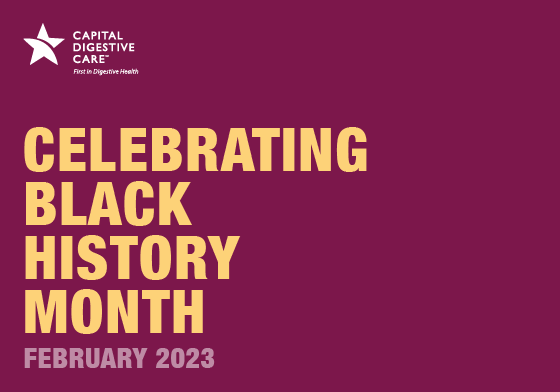 This year, Capital Digestive Care is marking Black History Month by celebrating the contributions of African-American trailblazers in medicine. Throughout February, we will be reflecting on the medical professionals whose groundbreaking work contributed to the patchwork of innovation in their fields, many of whom achieved their accomplishments during segregation and other challenging circumstances. We're proud to celebrate well-known, influential figures, as well as those who are just beginning to receive the recognition they deserve. In many cases, the impact of their pioneering work is significant to this day, along with the inspiration of their work on future generations.
Black History Month
African-American Pioneers in Medicine
Dr. Kizzmekia Corbett is a viral immunologist who served as a key scientist in the development of the mRNA-based COVID-19 vaccines. Prior to the pandemic, her work on other coronaviruses at the National Institutes of Health paved the way for the speedy creation of these vaccines. In addition to her work as an immunologist, Dr. Corbett is an outspoken advocate for building trust in vaccines and eliminating racial health disparities.
Dr. Marilyn Hughes Gaston knew at age 9 that she wanted to become a doctor so that she could provide high quality health care to underserved minority communities. After earning her medical degree, she became instrumental in developing national screening guidelines and prophylactic treatment standards for sickle cell disease, In 1990, Gaston was named the director of the Bureau of Primary Health Care in the US Health Resources and Services Administration, making her the first African American woman to direct a public health service bureau.
Dr. Sadye Curry is the first African American woman to become a gastroenterologist in the United States and the first female to be elected chair of the Internal Medicine Section of the National Medical Association. After receiving her medical degree from Howard University, she became the first woman postgraduate trainee at Duke University Medical Center.
Dr. Rebecca Lee Crumpler was the first African American female doctor in the United States. She began her career in medicine by working as a nurse in Massachusetts and eventually applied to medical school at the New England Female Medical College, where she was accepted. In 1864, she received her degree and began her practice in Boston. She was a talented physician who practiced medicine in several locations, including Richmond, Virginia, and Hyde Park, New York.
Dr. Mae Jemison is a former NASA astronaut, engineer, and physician. She earned degrees in chemical engineering and African and African American studies from Stanford University. Later, she earned her medical degree from Cornell University and worked as a general practitioner before becoming a doctor for the Peace Corps in Liberia and Sierra Leone. In 1987, Jemison applied and was accepted into NASA's astronaut training program. She became the first black woman to travel into space when she served as a mission specialist aboard the space shuttle Endeavour. A true star!
Dr. Leonidas Harris Berry was the first African American specialist in gastroenterology and a pioneer in endoscopy. He invented the Elder-Berry biopsy gastroscope in 1955, which improved the way doctors collected tissue from the stomach without surgery. He also determined that it is not the stomach damaged by alcoholism, but rather the liver. This discovery would change the treatment of alcoholism forever.
Dr. Kenneth Forde was a trailblazing surgeon who pioneered endoscopy as a diagnostic and surgical tool. After completing his medical degree and training at Columbia University, he began his career, where he rose to the highest ranks of gastrointestinal and colorectal surgery. During that time, he became an early proponent of routine colonoscopy screening to prevent and detect colon cancer. As part of the effort to raise public awareness, he performed Katie Couric's first colonoscopy on live television on The Today Show.