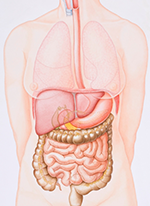 ​A team of researchers led by Allegheny Health Network surgical oncologist Blair Jobe, MD, developed and validated a four protein serum biomarker panel that shows promise for early detection of esophageal cancer.
Esophageal cancer is a rare but often deadly disease that is rising quickly, up to 600 percent higher than in the 1970s. Dr. Jobe's clinical trial results were published online via Cancer, a journal of the American Cancer Society. The four protein panel, referred to as B-AMP (biglycan, myeloperoxidase, annexin-A6 and protein S100-A9), is a simple, non-invasive, low-cost blood test that identified esophageal cancer with a high classification accuracy of 97 percent in the trial.
The team tested tissue samples from the Department of Pathology at the University of Pittsburgh representing patients with Barrett's Esophagus, high-grade dysplasia and esophageal cancer to identify and select targets for blood testing using a global proteomics profiling platform. The biomakers were tested in blood samples from patients with non-Barrett's esophagus GERD and esophageal cancer. The findings were validated in an independent but similar cohort assembled at Allegheny Health Network and Roswell Park Cancer Institute in Buffalo, New York.
Out of the 3,777 tissue proteins, five displayed significantly elevated levels in blood of patients with esophageal cancer compared to those with non-Barrett's esophagus GERD. Using mathematical modeling, four of the five provided predictive value.
"Cancer is an enigmatic disease that is slowing giving up its secret to highly motivated researches," said Jeffery Baybick, MD, Medical Director of the Capital Digestive Care Laboratory Division. "Studies such as these will eventually find utilization in the detection of cancer at an early stage, and allow eradication before it spreads."
Blood-based biomarkers have improved early detection and treatment of ovarian and prostate cancers. However, the development of blood-based esophageal cancer biomarkers has been delayed due to the challenge of identifying a single conserved and universal tracking marker.