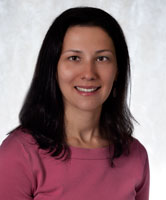 ​Meeting the needs of patients throughout the metropolitan area is our top priority and we are pleased to welcome Dr. Anna Strongin to our growing practice. Dr. Strongin brings several years of medical training in gastroenterology and internal medicine to our Ijamsville and Rockville offices in Maryland.
She holds a master's degree from Georgetown University in the field of Biophysics and Physiology, and a medical degree from the University of Maryland School of Medicine. She is also a former resident of Thomas Jefferson University Hospital in Philadelphia, PA. Before joining Capital Digestive Care, Dr. Strongin completed a gastroenterology fellowship through the University of Maryland Medical Center in Baltimore and the National Institutes of Health.
In addition to being a highly-trained practitioner, Dr. Strongin comes from a family of female physicians. Read more about her by clicking on her bio.