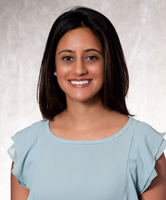 ​Capital Digestive Care is once again expanding its staff - this time with the addition of our new hospital based physician, Dhvani Shah, MD. She is now seeing Capital Digestive Care patients at Sibley Memorial Hospital in Washington, DC.
Dr. Shah is a highly-trained internist and gastroenterologist. In terms of patient care she follows the philosophy that it is important to treat individuals, not just medical conditions. She strives to develop a partnership with each patient to create a comprehensive plan for optimal health.
Prior to joining Capital Digestive Care she completed a fellowship in gastroenterology and hepatology through Montefiore Medical Center in New York. In addition she completed a residency at Yale New Haven Hospital in New Haven, Connecticut.
As a native of the New England region, she graduated from Brown University in Providence, Rhode Island with a Bachelor of Arts in Human Biology and earned her Medical Degree from Brown University's Warren Alpert School of Medicine. Read more about her by clicking on her full bio.