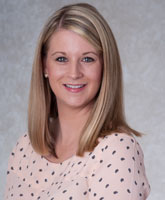 ​Capital Digestive Care proudly welcomes Dr. Lauren Halvorson to the practice. She will be receiving patients at Capital Digestive Care's Maryland offices in Columbia, Laurel and Takoma Park. Dr. Halvorson brings a wealth of experience across a broad spectrum of health issues, including inflammatory bowel disease, women's digestive health, and esophageal disorders.
​As a Maryland native, Dr. Halvorson graduated summa cum laude from the University of Georgia before returning to the Mid-Atlantic region. After her undergraduate studies, she continued her medical education at the University of Maryland's School of Medicine in Baltimore where she also completed her residency. She then finished several years of training in Gastroenterology during her fellowship at Medstar Georgetown University Hospital in Washington, DC.
​In addition to having a long track record of dedication to patient care, Dr. Halvorson has participated in programs benefiting underserved communities in the U.S. and in Central America. Currently, Dr. Halvorson is a member of the American College of Gastroenterology and the American College of Physicians, and her work has been published in several peer reviewed publications. To read more about her, please see her full bio here on our website.
Founded in 2009, Capital Digestive Care is a Washington, DC metropolitan-based health care provider focusing on gastroenterology and internal medicine. Its 60 physicians treat a wide range of digestive conditions - from heartburn to constipation to colorectal cancer, and many others. Capital Digestive Care's integrated health care model connects its doctors to both a specialized pathology laboratory and the largest clinical research program of its kind in the region in order to enhance patient care. With 16 office locations, 13 hospital affiliations, and 8 ambulatory surgical centers, Capital Digestive Care's physicians work together across disciplines to develop the most effective treatment plan for each patient.