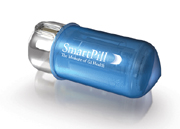 The SmartPill is a single-use, ingestible capsule that measures critical information as it travels through the digestive tract, allowing a physician to evaluate unexplained gastrointestinal problems such as nausea, abdominal pain, bloating, constipation or vomiting without radiation or sedation. The SmartPill is administered at a physician's office, where it is swallowed naturally by the patient. After ingesting the capsule, patients are able to resume most of their normal daily activities while the data is collected.
The SmartPill uses sensor technology to measure pressure, pH and temperature throughout the entire digestive tract. It sends this information to a wireless data receiver, which is worn on a belt or lanyard. Later the patient returns the data receiver to the physician and the data is downloaded to a computer, providing information used to evaluate the stomach, small bowel and colon.
What to Expect
When you arrive at your physician's office you will be required to eat a small meal bar, called the SmartBar. After that meal you will ingest the capsule with small amount of water. The procedure will take approximately 15-20 minutes. After ingestion you may return to your normal routine, wearing the data receiver for three to five days. During that time, you will be required to document when you eat and when you have bowel movements. When the test is complete you will return the data receiver to your physician's office where the information will be downloaded to the system computer. Your physician will analyze the data and schedule a consultation meeting to review your test results.
How to Prepare
You will be required to fast a minimum of 8 hours prior to the test. Your physician may also ask you to discontinue certain medications for up to one week prior to the test. Use of tobacco and alcohol should be restricted during the fasting periods before and after capsule ingestion. After the SmartBar is ingested, you will be required to fast for another 6 hours and may only have limited quantities of water. Insulin dependent patients will be required to follow special instructions regarding insulin dosages. A patient instruction sheet will be supplied to you with all of the suggested restrictions and instructions.
ADDITIONAL INFORMATION:
SMARTPILL CORP