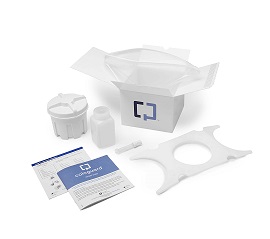 Recently the United States Preventive Services Task Force included the Cologuard (DNA) test in the U.S. colorectal cancer screening guidelines. Cologuard is a stool DNA test that looks for certain abnormalities caused by DNA mutations, which are often present in colorectal cancers or polyps. Cells from these cancers or polyps often get into the stool, where a test such as Cologuard can detect them.
Who should consider screening with Cologuard?
There is no one size fits all strategy for screening for colon cancer and each method has unique advantages and limitations. Men and women, age 45 and older who are at average risk for colon cancer may benefit from screening with Cologuard, especially if they would have chosen to not been screened at all. Cologuard should not be used by patients who have an increased risk for colon cancer, inflammatory bowel disease or a history of colon cancer or colon polyps.
How is the Cologuard test performed?
Cologuard is a simple, noninvasive colon cancer screening test that can be used at home without any dietary changes or bowel preparation. It is the only FDA-approved test that is based on stool-DNA science and studies have shown that it is more sensitive than other stool tests in detecting colon cancers. Since Cologuard is available only by prescription, it is ordered by your doctor and a kit is shipped to your home. When the Cologuard kit arrives, it will give instructions for collecting a sample and preparing it for mailing. Once the kit has been prepared and picked up for delivery, it will be sent to the lab for processing. After the lab work has been completed, the lab will contact your doctor with the results. If your test results are negative, it is recommended you re-take the test in three years.
How does Cologuard compare with other screening methods?
In clinical studies, Cologuard detected 92% of colon cancers. Like other stool tests, Cologuard does not require sedation or bowel preparation. No test is 100% accurate and Cologuard may miss some cancers and many precancerous colon polyps; it can also produce false positive results. If your test results are positive, you will require a colonoscopy for further diagnosis.
Colon cancer screening tests are an important tool to help detect and prevent colon cancer. With appropriate screening and early detection, colon cancer can be prevented or, when caught early, successfully treated. There are many options for colon cancer screening but Colonoscopy is the highest performing screening tool available as it allows for both screening and removal of cancerous and precancerous colon polyps.